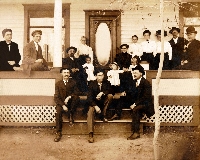 12/2/2014
Marcos Perez
marcosp97@yahoo.com
&nbsp
&nbsp
i wasnt able to recieve your email because i changed my email shortly after my last post. if you would like to contact me please use my current email.
11/3/2014
Kimberly Falt
kfalt72@gmail.com
&nbsp
510-260-1107
Hello, my nephew Marcos Perez has a few of the details incorrect. Peder who was married to Karen, had Thorlief. Lawrence, Marie and Jenny, Thorlief was my grandfather. He died when my mom was 13 years old, her maiden name was Karen Questad. I know Peder's wife Karen died shortly after her and the kids came to America. We just don't really know much prior to Peder coming over, in the late 1890's. Not even his or Karen's parents. Thanks.
1/7/2014
Kevin Questad
kevin@questad.com
www.questad.com
Snohomish, WA
Marcos, I have tried contacting you but have not heard back. Try to email me when you have time. I have lots of information that you might find interesting.
12/13/2013
Marcos Perez
macc925@yahoo.com
&nbsp
California
My mothers side of my family is norwegian and my grandparents have the same family name questad. my grandfather is named Rolland lawrence Falt. He never knew his father but i was told some of our family from norway moved to michigan and other places. My grandma last name is questad but her real fathers name was scott i believe. But her father who she took the name of was thorloff questad, and his brothers name was pedar... thorloff had died when she was very young. this is about at much as i know so far but please get ahold of me if you have any extra info, i would love to know.
8/2/2013
brian
today678@safe-mail.net
&nbsp
&nbsp
kevin, tried to email but it did not go through. hope this works. did you get to norway. what photo was that you wanted hope all is well
12/25/2012
Jennell Kvistad
jennell@blossomonlopez.com
&nbsp
Lopez Island, WA
I just received my copy of Kvistad to Questad! I am thrilled. Thank you for all your efforts. I look forward to reading the whole thing in the coming years and sharing stories with my children. This is a treasure.
8/13/2012
brian nigbor
nigbor@hotmail.com
&nbsp
chicago
We are investigating our Norway routes and will be off to Inderoy soon. My great great grandparents were Lorentz and Marta Kvistad. They are buried at the old Sakshaug church, which my granfather visited in 1953. If anyone has info on the family farm in the area please contact me. thank you
8/15/2011
Debbie (Smith) Thorpe
Dt607@aol.com
&nbsp
Anacortes, WA
This is for Kathy, wanted to wish you Happy Birthday, I always think of you on your birthday. It has been a lot of years. Debbie
6/25/2011
Your #1 Cuz!
coppertone415@aol.com
&nbsp
&nbsp
Love the pictures! I want to go to the NP in Utah, they are beautiful. Good job on taking the pics!!! Too bad you didn't get sunshine the whole time you were there though!
6/15/2011
Eric Questad
ericquestad@gmail.com
&nbsp
Kennewick
Hey! I think we might be related.
12/6/2010
Mom(Carolyn )
&nbsp
&nbsp
&nbsp
So glad you made it to "my" Hawaii
9/28/2010
Pason Searles
pasonsearles@yahoo.com
&nbsp
bennington nh
Beautiful Family
1/28/2010
Susan Pozniak nee Liseth
susan.pozniak@intria.com
&nbsp
&nbsp
HI. My grandfather was Johan Sverdrup Holmgren, born 1885, and a brother (I think) to Margarethe Questad. He emigrated to the US from Norway 1911? He married my grandmother Oleanna Holmgren in 1912 (August)and I think the marriage took place in North Dakota. They then crossed into Canada. Do you have any information re this part of her family? thanks, Susan (great web site)
12/25/2009
John Bruvoll
john.bruvoll@basemail.no
&nbsp
Brøstadbotn, Dyrøy, Norway
Hello again Kevin. I have been looking a little around, and I can't find more than one Synnøve Maria Mikkelsdatter on Finland farm. I wonder if you can tell me were you found Synøve number 2. In my books there is only one. The writer, Oddbjørn Knutsen, of Dyrøy parish-book, sais that Synøve Maria, who was born in 1773 and died in 1836 was crippled and died un-married. What about your Synnøve Maria? Regards from John in Norway
11/25/2009
John Bruvoll
john.bruvoll@basemail.no
&nbsp
Dyrøy, Troms, Norway
Hello Kevin. I have seen your question on Anecestry.com, and I left you a message there. I'll take contact after tomorrow. It's "bedtime" over here in Norway now, and the job is waiting early in the morning so...
3/10/2009
Mariah Marsolek
mimi_grrl@yahoo.com
&nbsp
&nbsp
&nbsp
12/28/2008
Kari (Kallio) Wickstrom
karijwickstrom@yahoo.com
&nbsp
marysville, wa
Great site here! Helga Kallio was my grandmother. Would love to stay in touch with you all.
12/28/2008
brianna wickstrom
princessfairey@yahoo.com
myspace.com/girlgoinpunk07
marysville WA
ok so i was lookingat this site and i came across an email address.. my grandpas.. Howard kallio... he's my moms dad.. so if anyone can get back to me about this part of the family I'd like to know about great great gramma Inga... plz.. i dont know much about her..
11/13/2008
Kevin Questad
kevin@questad.com
www.questad.com
Bothell, WA
Sorry for the guestbook being down. I have attempted fixes to stop the spamming and have not been able to stop it. I am hoping that the latest fix will solve the problem. If not, I will take the guestbook down again. Hopefully this will solve it and I can leave the guestbook up.
4/21/2008
Kevin Questad
Kevin@Questad.com
www.questad.com
Bothell, WA
This is just a note to commemorate the 100th Anniversary of Alfred Questad's Birth. Alfred passed away almost 27 years ago, but it is still a momentous date in our family heritage.
6/19/2007
Roman Questad
romanbruce@hotmail.com
Hello everybody, this is my first comment here (woohoo).......... i hope we all miss great grandma inga and hope she'll have a great time in heaven
10/4/2006
Reza Peroz
Reza_peroz@yahoo.co.uk
Nice site you got here . welldone questad family cordinand
2/17/2006
megan
snohomish_sweetie@msn.com
snohomish
i hope i'm not intruding but if anyone could tell darylin that megan is trying to get ahold of her next time you see her i would be very greatfull respectfully megan
2/1/2006
megan
snohomish_sweetie@msn.com
snohomish
hey darylin its megan i was thinking about you. i remember that you came here last time with me to check your email buy i couldn't find it. please emal it to me at snohomish_sweetie@msn.com so we can write back and forth togeather.i miss you so much i hope you see this soon it's febuary 1st missing you tons love -megan
9/26/2005
marta holmgren klepp
martakle
9/17/2005
lexi seppala
cheetagirl46@hotmail.com
this website is awsome we all miss grandma grandma.
7/13/2005
honey and lea Aho
cralea@aol.com
Add some new and more pictures. We like to see more of Gary and Jen and yous who we know. YOu take lots of picture start puttting them on. Hope all is well on the west coast. Gods Peace HOney And Lea
6/22/2005
katie questad
ktjquest@yahoo.com
6/22/2005
pam
taps5@comcast.net
hello everybody very nice web sight
6/22/2005
alexa
cheetagirl46@hotmail.com
grandma grandma is a great person i will miss her as she is in heaven,im sure everybudy that knew her will miss her as well.I love you grandma grandma
5/17/2005
savannah questad
hotstuff96@hotmail.com
ilove my graet grandma inga
2/23/2005
Tasha Marsolek
zulu_grrl@hotmail.com
hey kev. havent seen you in while, when are you coming out to tricities??
1/6/2005
Ken Kallio
klkallio@millersinteriors.com
360-658-7239
Excellent site.
12/30/2004
Howard Kallio
bear2hlk@charter.net
509.628.2803
Kevin: Great Family site. Thank you for sharing. I was looking for photos of Grandpa Chris Holmgren and the one I wanted will not load. Its file name is: chriscarrie41stanniv1053.jpg I downloaded a couple of others. Can you help with this one or send it as an attachment? Best regards and Happy New Year to the Questad family!
11/7/2004
Todd Oltman
toltman@yahoo.com
Aurora, IL
My mother's maiden name is Questad. Her grandparents immigrated to the U.S. and settled in the Baltic, South Dakota area. My great-grandfather's name was Ole (O.J.) Questad. He had at least three sons: Sander, Arthur, and Ernest. I believe that someone in my family has done quite a bit of geneaology research, but I have never seen it. I was wondering if there was some sort of family connection.
10/10/2004
Martha Carlson
martha11c@aol.com
Keep up the good work! I really enjoyed it!
5/19/2004
Sarah Frielink
adamnsarah@tbcnet.com
Please contact me, I am your lost relative :) I look forward to corresponding with you. I am a Norwegian Missouri Synod Lutheran here in Illinois and I have proof that I am related to Carl Questad. Please check your emails. I sent email information about it. I can send a picture, a birth record, and a copy of a 1920 Census report in Friendship, MN that proves we are related. Sorry if I seem a little anxious, my mom and our family have been wanting/trying to find the Questad family for over 60 years. My phone number is 815 895-2353. Please let me know what you think via email or phone. My family is very successful and wonderful Christian folks--doctor, lawyers, businessmen, and teachers. This would be a blessing and very healing for us to have contact with our lost cousins, grandparents, uncles, and aunts, great uncles and aunts. From what I read on your webpage, we do have a lot in common. I don't have a homepage, but can email 1930's pictures of my grandpa and a copy of his birth record and a 1920 Census report linking your family to I believe Carl Questad, who was 33 years old in 1920 and in the restaurant business in Friendship, MN. Also, I can email my wedding pictures from Immanuel Lutheran Church in DeKalb, IL and pictures of my beautiful children. My son, Gabriel does have some resemblance to some Questad relatives in this website. Please let me know if you want to correspond--either way. :) This will be a final closure on my grandpa's dying wish and let him rest in peace. We would be honored to meet some of our relatives or write to them.
3/9/2004
Tasha Marsolek
nmage13@yahoo.com
Hey Kevin, E-mail me a password! Oh, Yeah, You should come up to tri-cities and visit us sometime. We haven't seen you in forever!!!!
1/28/2004
Lawrence L. Thompson
llthomp@earthlink.net
Arlington, WA
I share a joint heritage with you, except we spell our name "Kvistad." I visited the Kvistad farm on Inderoy this summer. Only recently have I become aware of the Questad family. My grandfather is Lorentz W. Kvistad (1847-1927) great grandfather Peder Pederson Kvistad (1795-1865) and his fourth wife, Malena Gunnarsdtr. Skogseth. I have made initial contact with Kent Questad. Looking forward to meeting more of you. Lawrence "Larry" Thompson, Arlington, WA
12/3/2003
Jean.Hartman@excite.com
Thanks for the photos. It's fun to see them -- brings back lots of memories. (Sigrid Johnson was my grandmother and Fred Holmgren was my great uncle.) I especially liked Pastor Holmgren's trip photos -- in ND and OR.
9/20/2003
Hege Johanne Holmgren
hjholmgren@hotmail.com
Sagabrinken 19, 9517 ALTA Norway|
I just wont to say hello.
9/18/2003
tasha marsolek
nmage13@yahoo.com
hey kevin come and visit some time in tri-cities! from: tasha
8/20/2003
Lill Holmgren
lilljh@ko.no
Hello. We have just met Barbara and Valerie here in Norway (Hammerfest and Alta) We are now waiting for Barbara and Valerie, they are gone looking at Bossekop church and the grave yard where Anna Holmgren is burried. Greetings from Liv Hanna Ellingsen (born Holmgren) ,Sissel Holmgren (was married whith Aksel Holmgren) and Lill Holmgren
8/19/2003
Mette Holmgren
metteh@trollnet.no
Alta Norway
8/12/2003
Lise Holmgren Duurhuus
Lille_78@hotmail.com
Hammerfest
hello:) my name is Lise Homlgren Duurhuus(15), I live in hammerfest. I am the youngest child of Odd Holmgren and Verna Karin Duurhuus. Odd is the youngest sonn of senjor Odd Holmgren. at the moment we have visit from Seattle, Barbara and Valory. greatings frome Lise Holmgren Duurhuus.
3/6/2003
Natasha Marsolek
Hey Kevin havn't seen you a while come to tri cities! miss ya alot, tasha
1/8/2003
Valerie Questad
windowpatterns@aol.com
Wenatchee
Have enjoyed browsing through the old photos. Great website.
1/7/2003
Steve Questad
s.questad@attbi.com
Very interesting photos, nice web sight.
12/24/2002
honey aho
hka831@cnonline.net
Hey Kevin looking good came on to find picture of Gary and Jenn Family. You'll have to make another trip to add more pictures. Love and Gods Peace Honey
9/24/2002
Katelyn Marsolek
rockongirlfriend
hey, Every one this is Katelyn Hi!
8/30/2002
Jani Questad
bjquestad@yahoo.com
Kennewick, WA
Hi Kev! I'm at work and it is 1:30 a.m. and I am surfing the net because all my patients are sleeping! Lucky ladies! I think you've done some new stuff to this web site and it looks great. Anyway ... thanks for taking the time to do all this .. it sure is fun to look at. Good night!!
7/19/2002
Tasha
ntsh271@aol.com
230 St. James Court Longview, Wa
great web site!!!!!!!!
4/25/2002
Katelyn & Tasha Marsolek
rockongirlfriend2002@yahoo.com
Longview Washington
Great guestbook kevin, long time no see!
2/22/2002
Leanne (Steed) Roe
mrsroe@covad.net
Everett, WA
Just to add: Margarrethe (Holmgren) Questad, gave birth to Alfred, Norman and Ray. She had other children but I don't know their names. Congratulations on Inga Questad's recent 80th birthday.
2/22/2002
Leanne (Steed) Roe
mrsroe@covad.net
I greatly enjoyed looking at the Questad/Holmgren photos. My great-grandmother was Sigrid (Holmgren)Larsen, who settled out in Richmond Beach with her one son and six daughters. The eldest, Martha (Larsen) Rapp, is my grandmother). Sigrid's sister was Margarethe (Holmgren)Questad. My mother is Roberta (Rapp) Steed. You've created a beautiful website. It was fascinating.
2/4/2002
Tasha and Katelyn
jcmarsolek@aol.com
Longview Washington
Hi Everybody!Wazzup?we miss you!
2/2/2002
Carolyn (Mom) Questad
carolynq@1sttech.com
hey, good job....praying for that ideal job !!:)
1/29/2002
Kevin Questad
kevin@questad.com
www.questad.com
Snohomish, WA
Hello all, welcome to my site. It is quite the mess at the moment as I am going through a major update. Please be patient, I am hoping to make the site quite a bit better with this overhaul. Please sign the guestbook for me, seeing how it only takes you a couple seconds. And also seeing how you never email me. :)
(Disabled at this time.) Add New Guestbook Entry