Copyright © 2012 The Questad Family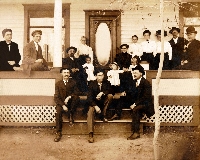 Kvistad to Questad - A Brief Family History
Lars Hansen first acquired the Kvistad farm in Inderøy, Nord-Trøndelag, Norway, in 1719, thus becoming the Kvistad family. Although the farm has split multiple times through the years, the main farm today, Nedre Kvistad, is still owned by a distant relative, Torgeir Kvistad Agle. Lars Hansen Kvistad's great-great-grandson, Jacob Lorentsen Kvistad, was born on March 21, 1853, to Lorents Wittrup Pedersen Kvistad on the Øvre Sørteigen farm, one of the smaller Kvistad farms that was split from one of the larger farms. Jacob moved to Hammerfest, Finnmark, in the northern reaches of Norway, in 1876. It was here that he met and married Synnøve Marie Larsdatter Olsen (who went by Marie). They had two sons: Ingvald Marensius Jacobsen Kvistad on June 24, 1880, and Lorents Constantin Kvistad on August 6, 1882.

Jacob decided to move his family to America, to Minot, North Dakota, where his older brother, Peder, was already living. In April 1896, they left Norway and made the journey to Ellis Island in New York. On immigration Jacob decided to change the spelling of his family's last name; he changed it to Questad, and he then changed the spellings of his sons' first names to Ingwald and Lawrence. The Questad family made their way to North Dakota and homesteaded near the current town of Carpio.

Ingwald married Alexandra Margrethe Holmgren (who went by Margrethe) in 1904 and had a daughter, Dagmar, in 1906 (who died at three years old), and four sons: Alfred Nicolai (1908), Roald Norman (1911), Ingwald Melvin (1913), and Raymond Victor (1917).

Lawrence married Lorentze Margrethe Holmgren in 1905 and had four daughters and four sons: Maude Victoria (1908), Haakon Jacob (1908), Henry Christian (1910), Esther R (1912), Anna Marie (1914), Dorothy Margaret (1915), Thomas Alexander (1917), and Roy Arthur (1920).

All of Jacob's grandchildren married and most went on to have families. Jacob's eldest grandson, Alfred, married Inga Louise Holmgren in 1942. Inga Louise was the daughter of Kristian (Chris) Holmgren and Karen (Carrie) Rostad. Margrethe, Lorentze, and Chris were all first cousins of each other, their three fathers were brothers. Alfred and Inga went on to have four children: Larry Keith (1944), Dale Vernon (1946), Bruce Wayne (1948), and Kathy Jo (1952). As of the date of the creation of this page, Alfred and Inga's family numbers over 150 individuals.